Best Microsoft Teams Integrations for Remote Teams
With teams and companies switching to working remotely, the importance of various communication tools has grown steadily in the last year. One of the leading productivity platforms – Microsoft office 365 with it's Teams app have become an integral part of how we communicate with colleagues, share information, and make decisions. But did you know Microsoft Teams has more than 800 integrations aimed at making your remote team collaboration even easier?
You can scroll them all in Microsoft Appsource, but we have done some research and selected 15, which we consider the best Microsoft Teams integrations for remote teams to improve productivity. We have looked into 7 categories – task management, collaboration, meetings, translation, team building and information sharing. Hope you will discover one or few to enhance your Microsoft Teams experience.
Task management
Effective task management systems are crucial for any remote team to perform. The great news is that many project and task management tools offer a Microsoft Teams integration that makes delegating the tasks even easier. Here are a few of our favorites.
Teamhood is a visual project management tool that helps teams see the work they have to do and track progress effectively. You can create Kanban boards, attach various information to tasks, review automated reports and manage the big picture in Portfolio view. Teamhood is a powerful project management tool for high performing teams.
To make task management more seamless, Teamhood integration with Microsoft Teams allows users to share and create new tasks without having to switch between tools. Quickly add new tasks to your connected workspaces, by specifying their name, description, and due date. Or share a link to a Teamhood task to preview and discuss its information in any chat or video call. This Microsoft Teams integration makes task management easier and allows Teamhood users to enjoy a seamless experience between the two tools.
2 – GitHub
GitHub is a software development platform aimed at helping developers solve issues and create new technologies. It works by letting people share their projects with each other and allowing them to work together to find the best solutions.
With Microsoft Teams integration, Github users can collaborate on tasks without switching tools. They can create, share and ship code right from Microsoft Teams. This allows for easier task management as full projects are visible and several teams can collaborate on the issues to find the best solutions. GitHub users can enjoy full access to repositories from Microsoft Teams, thus giving them the full arsenal needed to perform tasks and push the project forward.
Collaboration
Being able to collaborate on tasks ensures that remote teams can find the best ways to execute their projects. Take a look at the following Microsoft Teams integrations to improve your approach.
3 – Cacoo
Cacoo is a diagramming app that helps teams collaborate on wireframes, flowcharts, mind maps, and other visual representations of ideas. Remote teams can use this tool to work on the next task together, instead of sending information back and forth between teammates.
Cacoo Microsoft Teams integration makes this collaboration even easier. All team members get notifications in Teams about the diagram activity – what has been added, updated, commented on, or who has been given access to the diagram. And team members can easily share links of their workspaces to ease the access to diagrams no matter the location.
4 – Mural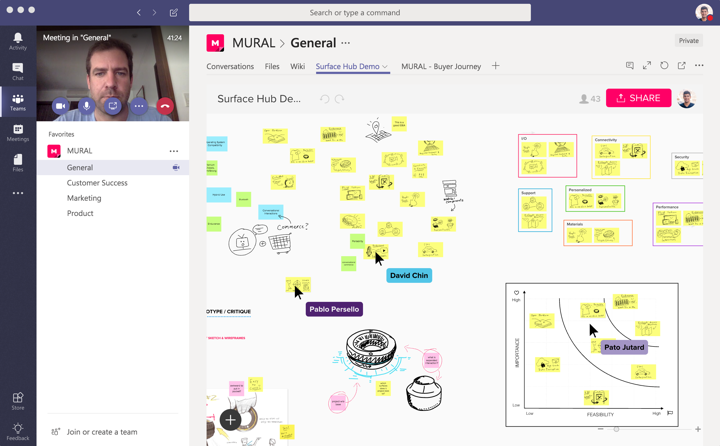 Mural is another digital collaboration tool that provides teams with a visual workspace for brainstorming. It allows team members to collaborate and use brainstorming tools like diagrams to solve complicated issues.
With a Microsoft Teams integration, Mural users can hold a brainstorming session without ever leaving the app. Instead, they can visualize ideas right in the Teams chat or meeting. If you feel like more people should be included, add them to an ongoing session and continue editing together. Mural also saves and lets users share old brainstorming sessions so you don't have to worry about losing good ideas.
Best engineering project management software.
5 – Adobe Creative Cloud
Adobe Creative Cloud is undoubtedly the most popular solution when it comes to designers, editors, photographers, and many other creative professionals. Tools like Photoshop, Illustrator, InDesign, and more are well known and widely used.
Adobe CC and Microsoft Teams integration allows remote teams to push creativity and collaboration closer together. Team members can share their work, stay up-to-date on tasks and exchange feedback without having to switch apps or look for third-party solutions. Integration features differ somewhat according to which program you are using, but in generally you can expect – review and commenting features, quick access to files, and easy work-sharing in Teams.
6 – Freehand
Freehand is an app that allows teams to sketch, draw and edit graphic design workflows. It is aimed at helping to ease communication and collaboration on creative projects where just adding comments often fails.
Their Microsoft Teams integration makes such collaboration even easier. The users get an infinite whiteboard for team members to sketch and edit things together. The final creations can be saved in the cloud for later use and turned into presentations for other teams or stakeholders. Thus, giving remote teams a way of working on visual aspects of the project just like they would be in the office.
Teamhood vs MS Planner – value comparison.
Meetings
No project can be run without meetings. For teams working remotely, meeting up to discuss issues and to find ways or moving forward is even more important. Here are the Microsoft Teams integrations that will help make your meetings more effective.
7 – Polly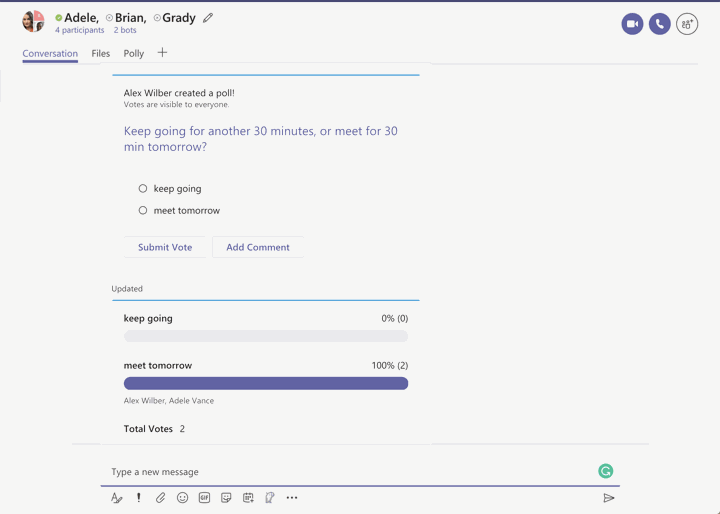 Polly is a polling tool that helps gather your team opinions on various questions and to make quick decisions without having to reach out to everyone on the team personally.
With the Microsoft Teams integration, remote teams can quickly create polls within Teams channels or group chats. All the team members will be able to see results and analyze the outcome as the votes come in. If you want, you can also have a secret vote, where you won't see who voted for which option or furthermore where the final results won't be displayed to everyone. So, use this integration to make quick decisions and continue working without interruptions.
8 – SoapBox
SoapBox is an app that helps you set a meeting agenda and organize more effective meetings. By asking you to define what has to be discussed in each meeting and then reminding you to address these points, it helps foster a more engaging meeting environment for everyone.
By using the Microsoft Teams integration you will be able to work on the meeting agenda with your team. You will also get Teams notifications to add an agenda if you forget as well as possible meeting topic suggestions to make sure your meetings do not become stagnant. Lastly, if you simply cannot close a discussion on a certain topic in one meeting, SoapBox will save this information and carry it over to the next meeting so that the discussion can continue.
Translation
While the majority of remote teams nowadays are professionals located in the same region, there is a growing number of teams that are composed out of people from a variety of places. And even with the best intentions, some things can get lost in translation. If you are working with a multilingual team, this translation integration can be a good-send.
9 – TranslateIt
TranslateIt is a translation app that supports over a hundred languages. Aimed at helping multilingual teams, it creates instant and context aware translations.
With their Microsoft Teams integration, you will be able to make communication within your remote team easier. Set specific language translation for each channel or group or use specific translation options for messages when you need them. This integration makes communication easier and faster.
Team building
Just because you are working with a remote team, doesn't mean that team building can be overlooked. In fact, team building games and efforts gain even more importance in remote team environments and should be taken seriously to keep employee morale high.
10 – Karma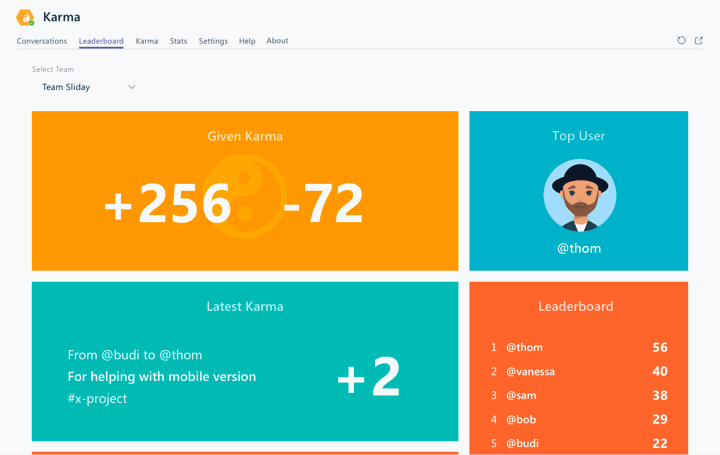 Karma is an app that records encouragements and 'tank yous' that are not normally said out loud. Using Karma, team members can award each other with points and appreciation and the managers can review the scoreboard for HR insights.
With a Microsoft Teams integration the team members can share micro-feedback instantly in the Teams chat. Which makes reaching for goals even easier and encourages collaboration. While the managers can use this as way to propagate company values and set real life rewards for the team.
11 – Health Hero
Health Hero is an app that helps you increase well-being of your team by creating activities and challenges. It integrates with various fitness apps and thus being able to create a leaderboard and keep track of your teams activity levels.
By using a Microsoft Teams integration you will be able to monitor the competitive leaderboard in your company channel. Team members can capture their activities via the app or by uploading pictures where each activity is rewarded with a point. Use engaging challenges and create teams to compete against each other to make sure your remote team is active and working as one.
12 – Enboarder
Enboarder is an app that helps HR managers build personal onboarding experiences for new hires. Use it to build an engaging courses for your remote teams and improve employee retention.
The Microsoft Teams integration delivers all of the onboarding data or e-learning courses in one place. The managers get reminders of when an action has to be taken. While the employees can get all the training in the same channel they use to communicate.
13 – Trivia
Trivia is an app that allows you and your remote team to connect while playing quizzes and other online games. It helps to get the team together and to enjoy each others company outside of work.
By using the Microsoft Teams integration, you will be able to have fun in the company chat. Choose a few trivia questions for a quick 5-minute break or create custom quizzes and games to spend some valuable time with your team.
Information sharing
Following are a few Microsoft Teams integrations that help remote teams share information with each other.
14 – Wiki
Wiki app is a default Microsoft Teams app, however we felt it was still worth a mention. As it is a great place to keep notes within Teams and use as a knowledge base.
This text editor keeps the team information in an easly accessible place and helps teams avoid having to dig through documents for information.
15 – Prezi Video
Prezi Video is a tool that helps remote teams create interactive and effective videos. t is great for sharing information, presenting projects, making announcements and more.
With a Microsoft Teams integrations you will be able to share your videos in the Teams group or chat. Take advantage of various templates and share visual explanations quickly and without big effort. Your team will appreciate this time saving way of realaying the message.
Summary
These are just a few Microsoft Teams integrations that can make remote collaboration a little easier. Give them a try and you will surely find yourself closer to a high-performing team than before.
If you are looking for more advice on remote team management, check out our asynchronous communication guide, team development stages and the proactive work management infographic.
Looking for an effective task management solution?
Check out Teamhood! A visual project management tool that helps you keep track of remote team progress and facilitates asynchronous communication.
Passionate content marketer looking to bring better solutions to the project management space.
2020 - Present Marketing specialist at Teamhood.
2014 - 2020 Marketing manager for Eylean.